The product brand and name has not been determined yet.
Endurance Carbon Road Bike 
Project Type:

Freelance Project
Designer: 

Emre Özsöz
​​​​​​​
The project is a carbon road bike with a blended design of aero and endurance bikes, aimed at entering the road bike market. This bike that stands out from the rest in a crowded market. The challenge was to create a strong identity for this ultralight carbon frame, but with as clean of a language as possible at every intersection. I completed the design phase of the product by researching, designing, and modeling it to support its features.
The designs and features of all road bikes available in the market were examined. The design was shaped with the findings obtained.
ALPH is the pinnacle of performance, technology and design. The inspiration for ALPH draws on great examples from other industries automotive, aerospace, furniture and architecture--to create a new design language for our brand.
​​​​​​​
PHASE 03

BRAINSTORMING & IDEATION
I explored many different designs in the e

ar

ly stages of the project. We used sketches and 3D models to brainstorm the different shapes and cuts we could use for our frames. These models helped us discuss how light or heavy each design should be and what aerodynamic qualities each fra

me would h

ave.
After numerous sketches and design alternative studies, the desired design line was determined.
PHASE 04 DESIGN CON

STR

AINTS
The concept phase of designing a bike was a good starting point. However, it took countless hours of drawing, modeling, and reviewing before a final design emerged. There are three major drivers that dominate the cycling industry: equipment regulations put forth by the UCI (the International Cycling Federation), aerodynamic quality of every detail of the frame (including seat post), and overall weight down to the last gram.
UCI regulations are always the first thing you need to check when buying a bike. A new road bike has to fit a tight set of specifications. The most pressing one is that it needs to fit completely within a set of bounding boxes.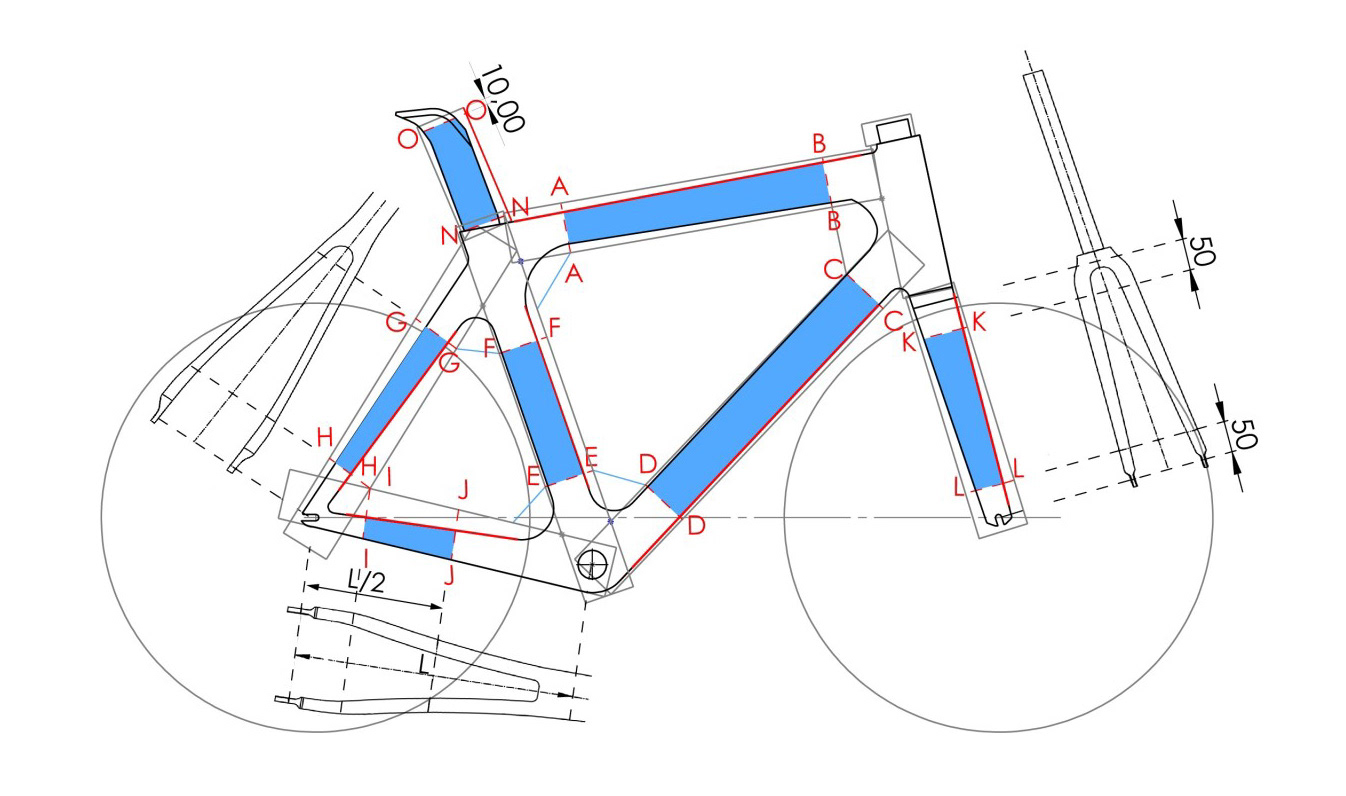 The UCI requires that bikes should weigh at least 6,8 kilograms. Road bikes today aim to land somewhere around 7 kilograms, which is lighter than the official minimum weight. If a bike's weight falls in between, then professional cyclists will avoid using it. A typical frame weighs about 1 kilogram. Needless to say, every gram counts when contemplating design decisions!
Although the initial design provided a good foundation for further development, multiple iterations of modeling were required. Sizes and tube sections changed on a daily basis. To decide which technical decisions to make, we decided to build a concept model quickly and use it as a means for communication about design decisions. We then used this model as a means for validation (through CFD and structural analysis) when the final production files could be made.
After many revisions and alterations, the design was ready for production. I had time to produce some initial renderings of the fully assembled bike.
PHASE 07

PaInt schemes and materIal fInIshes
(Top Row) Left, Gun Metal Paint - Right, Carbon Fiber /wo Painting / (Bottom Row) Left, Special Paint - Right, Color Shift Paint
This paint scheme(chosen by KordSA) was used in the JEC World 2023. (Left: Rendered Image, Right: Real Image)
JEC WORLD 2023 - Booth D32
KordSA Social Media Sharing
All renderings and sketches are the property of 
Emre Özsöz
Industrial design, sketching, 3D modeling, visualization by Emre Özsöz